| | | | |
| --- | --- | --- | --- |
| Poster: | He Live's | Date: | May 16, 2008 11:39pm |
| Forum: | GratefulDead | Subject: | Re: Anyone care to share their thoughts about Phish?..."Midnight on a carousel ride.." " |
(Ashes, I will oblige....)
i would refrain from linking to something from the later years, but this is a great version of one of the songs that hooked me: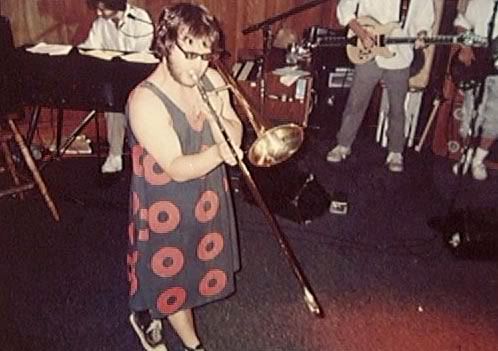 #1 it wasn't the dead -- we all caught on to the dead in high school, 87-89..... but come the college years, the dead were in decline and Phish played around the NE in small weird places AND THEY FUC&&N jammed for hours, trey blew, mike was bad ass and FISHMAN........
#2 it was drug party friendly, they played different sets every night, they might fuck with you for a half hour with gag songs and metal monsters, but then they would launch into a 20 minute mindbending danceable jam...
#3 all my friends were there
at the
keene theatre in NH in 91
there were a hundred or so people milling around in front of the theatre before the show, think orange-yellow marquee lighting, the place is buzzing with energy, we are all high on something. it is 20 degrees.
mike gordon arrives, short hair, fitted leather jacket, my memory remembers a mazda, but.... he blows past me in the crowd, WHOA, shit, that was mike.... no one else seems to notice him, or be interested anyway. he stops, gets into a conversation by the door with some guy obviously involved in the production of the show. he is really short, 5'6"? i make my move, what do i say, GOD KNOWS, i am a big phish-head now... something along the lines of "sick dude, i love you" -- i am just a space alien, his reply is barely audible.... i put out my hand, and he shakes it. i have been playing the bass for 6 years and he is a bit my idol, well a lot. his hand is small, and stubby.... mine is long and slender, but he is so much my superior at music. i am a bit awed....
it was a good long show..... intense, up and down -- sometimes i was hoping it would stop, JUST STOP FOR A SECOND -- really, THAT intense -- they send us home happy -- out where we have the car parked, it's colder now. we share a pipe and a just not-frozen Longtrail.... so tired....... we had soooo much fucking fun..... now we are so danced out and high and tired and cold and so satisfied that we found are own little thing, it didn't disappoint.
this you tube vid from '87
is absolutley mindblowing to me. this is one year old PHISH, at most! i cant believe this video even exists. this is very special..... check out the whole thing. it is very poor quality, but this is probably THE earliest Phish video.... blew my mind last weekend.
(Gosh darnnit ASHES,
it really WAS, SOOOO FUN!
......... REUNION!)
This post was modified by He Live's on 2008-05-17 06:39:40